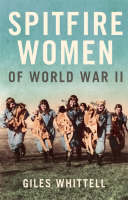 Quite a lot has happened over the last few days but first let me tell you about Sunday. It was supposed to rain in the afternoon but the morning was clear and warm so I went with Nick to the park for fighter's practice where I sat in my chair, did a spot of embroidery and read my book after getting an excellent mocha from Ma & Pa's cafe. I'm reading
Spitfire Women
at the moment and if you're at all interested in the second world war its really worth a read. Its about the women who ferried all sorts of aircraft from the factories to the airbases around England and then later on the continent. Really well written and easy to read. As it was a lovely day and I was feeling pretty good (also I had been at Nick to start planting the damned trees) we went out after lunch to plant trees. We have lost a lot of what was planted last year but we found a few in the grass and Nick later reported a reasonable number of gums (our firewood trees) made it through. We've now re-planted the South border and hopefully they'll be well enough settled in by the time winter hits that they'll make it through. We still have to get the irrigation onto them though! Saturday was also a nice day - we spent the morning checking out bathroom fittings at Placemakers and also bricks. We now have 3 bricks - in order the
Firth Devonstone
which comes in a colour called Serenity, the Austral brick shown below, and a Midlands brick which is similar to the Austral one. Unfortunately the Austral brick is no longer in production but the guy thought that they would have enough - if we order now. We're just about to roll-over the sale contract with the people that wanted to buy our house - they still want it but haven't been able to sell theirs yet so we'll give them a bit more time. Like I told Nick its no different from someone coming to us right now and wanting to buy it. Now we'll be looking at an early January settlement date - by which time our shed should be up so we've got somewhere to store our stuff.
More good news
work is sending me to WebStock next feb - YAY. WebStock rocks
I've lost 2 kg (maybe it was the planting day - but I have been worried that my weight was slipping upwards so a wee loss is good news for me)
I'm about 2 hours work away from finishing my tapestry (just as well as we'll have to take the loom apart to get it out of that room). I started it shortly after we moved in so there's some nice symmetry in finishing just before we leave.